Is prison gerrymandering new to you?
Welcome! We wrote our introduction to the site and its contents just for you.
Progress towards ending prison gerrymandering
The national movement against prison gerrymandering began when the founders of the Prison Policy Initiative discovered that the sheer size of the prison population was combining with an outdated Census Bureau rule to seriously distort how political decisions are made in this country. In a series of reports about the 2000 Census, we put numbers on the problem of prison-based gerrymandering, suggested solutions, and sparked a national movement.
Since then, we've made tremendous progress towards ending prison gerrymandering: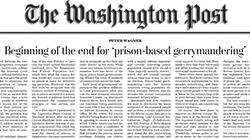 Prison gerrymandering dilutes your vote
"There are many ways to hijack political power. One of them is to draw state or city legislative districts around large prisons — and pretend that the inmates are legitimate constituents."—Brent Staples
The clearest example of prison gerrymandering comes from the City of Anamosa, Iowa where a large prison was almost an entire city council district. Council districts are supposed to contain the same number of people, but basing districts on non-voting non-resident prison populations gives a handful of residents the same political power as thousands of residents elsewhere in the city.
Don't miss some of our reports:
---