Is prison gerrymandering new to you?
Welcome! We wrote our introduction to the site and its contents just for you.
We are making progress!
Please see our campaign pages for California, Connecticut, Delaware, Illinois, Massachusetts, Maryland, Minnesota, New Jersey, New York, Rhode Island, Oregon and Wisconsin and our legislation page for additional information on previous legislation in Arkansas, Florida, Georgia, Kentucky, Indiana and Texas. Also see our articles about the laws in Michigan, Colorado and Virginia that require or encourage local governments to avoid prison-based gerrymandering. And for individual county and municipal governments, please see our list of places known to have excluded prison populations when redistricting.
Over 200 organizations ask the Census Bureau to develop solutions to prison gerrymandering
On February 14, 2013, the Prison Policy Initiative, Dēmos, and more than 200 other civil rights, voting rights and criminal justice organizations sent a letter calling on the U.S. Census Bureau to seize a timely opportunity to research alternative ways to count incarcerated people in the decennial Census.
If your organization would like to be notified about opportunities to participate in similar projects in the future, please contact us.
---
Prison gerrymandering dilutes your vote
"There are many ways to hijack political power. One of them is to draw state or city legislative districts around large prisons — and pretend that the inmates are legitimate constituents."—Brent Staples
Called prison gerrymandering, the practice finds its clearest example in Anamosa, Iowa where a large prison was almost an entire city council district. Council districts are supposed to contain the same number of people, but basing districts on non-voting non-resident prison populations gives a handful of residents the same political power as thousands of residents elsewhere in the city.
---
New law review article on prison-based gerrymandering
The Spring 2012 issue of the William Mitchell Law Review includes "Breaking the Census: Redistricting in an Era of Mass Incarceration," an article by Peter Wagner that provides a comprehensive overview of the problem of prison-based gerrymandering, and a summary of best practices to prevent the Census Bureau's prison count from skewing state and local redistricting.
---
Prison Populations Create Complications at Redistricting Time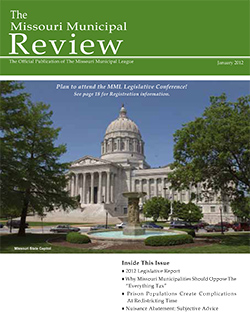 The January, 2012 issue of the Missouri Municipal Review includes Peter Wagner's article on how the Census Bureau's prison miscount creates problems for Missouri cities at redistricting time. Since the Census Bureau counts incarcerated people as they they were residents of the cities in which they are confined, city officials who are redrawing city council lines must decide whether the people who live next to the prison should be given more influence over city affairs than other residents.
Read more of the summary or jump right to the full article.
---
New York Times hails "An End to Prison Gerrymandering"
The New York Times cites our research on prison-based gerrymandering in the New York Senate, in upstate counties, and in Rome, New York in an editorial in Monday's paper, An End to Prison Gerrymandering.
The editorial hails New York State's new law to end prison-based gerrymandering for bringing benefits to all and says it should be emulated around the country.
---
Don't miss some of our recent reports:
---