Rome NY ends prison gerrymandering, Census Bureau can do better
Rome, NY redistricts - brings NY's journey to end prison gerrymandering full circle
by Aleks Kajstura, February 24, 2016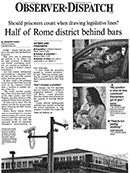 As we pass the middle of the decade and the Census Bureau is getting ready for the 2020 Census, Rome NY has finally completed their 2010 redistricting, and with it, ended decades of prison gerrymandering. The new lines for the City Council wards went into effect in time for the fall elections, and the elected councilors just started their new terms of office last month.
The city might sound familiar (and not just because it shares a name with Italy's capital) – Rome's City Council wards were one of New York State's worst examples of prison gerrymandering. About half of the population that the Census counted in Ward 2 was actually mostly out-of-town people incarcerated in the prisons located there. This stark population inequality in Rome's wards illustrated the absurdity of pretending that 1=2 when it came to allotting representation.
Prison gerrymandering is often pigeonholed as an urban issue, resulting in a lack of interest or opposition from legislators representing rural areas. Rome served as an example to bridge that gap; in fact, six years ago this week, the Utica Observer called on the state to end prison gerrymandering, citing Rome among the prison gerrymandering examples in their area. In endorsing New York's law to count incarcerated people as constituents in their home districts, the Utica Observer concluded simply: "It's only fair." Once the law passed, even the New York Times took note of Rome's situation.
Now, five years after the State passed a law ending prison gerrymandering, the City, leaning on Oneida County for technical help, finally redrew their City Council wards using redistricting data prepared by the state (LATFOR). The LATFOR data, which adjusted the population data that the state received from the Census Bureau, counts incarcerated people at home.
For Rome, this means that the redistricting data now reflects the city's actual population. The Census Bureau had counted people incarcerated at the Mohawk and Oneida facilities as if they were actual residents of the city. This incarcerated population accounted for half of the people in the city's Ward 2. A year later, the State closed the Oneida facility, spreading its occupants across the state's other prisons, meaning the Census data was stretched even further from reality. The LATFOR data helped the city avoid these "phantom constituents" skewing their redistricting data, ensuring that all city Councilors now have an equal number of constituents in their district.
While cities like Rome — and their residents — benefit from state laws that adjust the Census Bureau's flawed data, not everyone is so lucky. The Census Bureau should count incarcerated people at home in the first place, rather than leaving the data clean-up to states, let alone individual cities and counties.
Rome City Councilor, Frank Anderson (5th Ward), explains the city's protracted redistricting saga: