New York Times: Real Prisoners, Phantom Residents
New York Times editorial calls for court to uphold law banning prison-based gerrymandering.
by Aleks Kajstura, April 25, 2011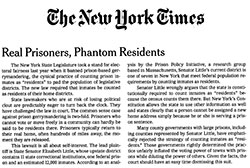 The New York Times has issued a strong editorial critical of state lawmakers who are challenging a law that bans prison-based gerrymandering. For more on the lawsuit, see last week's newsletter and our blog. For our research cited in the editorial, see the New York Campaign page on our website.