Primer for reporters on redistricting & prison-based gerrymandering
Guide about prison-based gerrymandering for reporters covering county/municipal redistricting in jurisdictions with large prisons
by Peter Wagner, March 10, 2011
We just released a Primer for reporters on county/municipal redistricting & prison-based gerrymandering.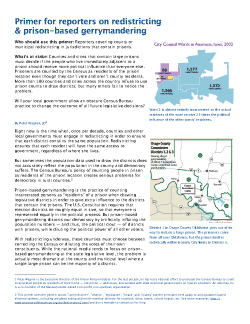 This week and next, our Alternative Spring Break students are reaching out to the reporters who cover local government in counties and cities with large prisons. They are sharing the primer and talking about how the leaders of each community are contending with a very interesting dilemma that is unfolding across the country.
From the introduction:
Who should use this primer: Reporters covering county or municipal redistricting in jurisdictions that contain prisons.
What's at stake: Counties and cities that contain large prisons must decide if the people who live immediately adjacent to a prison should receive more political influence than everyone else. Prisoners are counted by the Census as residents of the prison location even though they can't vote and aren't county residents. More than 100 counties and cities across the country refuse to use prison counts to draw districts; but many others fail to notice the problem.
Will your local government allow an obscure Census Bureau practice to change the outcome of all future legislative decisions?
Please download and share with journalists who you think will find it helpful.